R.L. Winston Pure 8 ft 4 wt Review
Below you'll find Mike Faulkinbury and Pete Norton's casting notes and review of the R.L Winston's Pure in the 8 ft 4 wt. When we first look for a potentially great rod, we prowl the internet, looking for other reviews from the most trusted and experienced sources. From there we take them out onto the streams for some real world action.
What we found is that all of the favorable reviews on this rod were dead on. The Pure 8 ft 4 wt is a once in a generation rod, akin to the greats.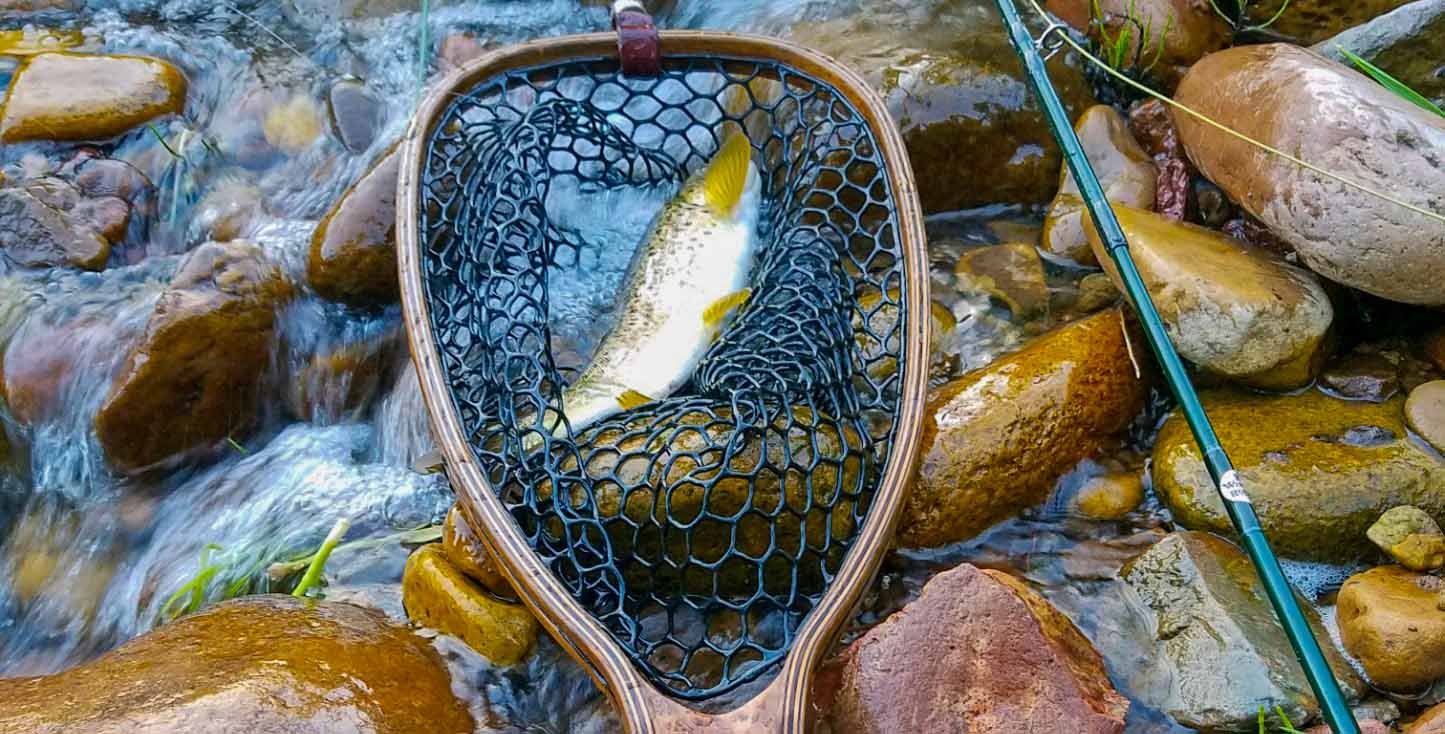 Mike's Notes
Winston 8' 4wt pure series.
As this is my first review, I feel I need to describe where my "proving grounds" typically are located.
The local is somewhat important when you take into consideration a review, I feel. This rod accompanied me to fish on the Mollogon Rim in central Arizona. The Rim, as we call it, is the edge of the Colorado Plateau, and there are a few cold streams that flow out of the bottom, running towards the Verde, and Salt river drainages. This particular stream is a combination of open casting, changing to canopy vegetation covered water in many spots. It is by definition small stream fishing.
Winston is known for fit and finish, this rod met their high standard of craftmanship in the looks department. The Winston Green and nickel silver hardware blend with the new figured Maple reel seat seamlessly. This is a light in hand rod with a good balance, aimed at making anyone who opens the green carbon fiber rod tube take a good moment to admire the craftmanship.
So great it looks good, not sure the spooky brown trout on this particular piece of pressured water give much respect for that. So, the real test begins. Paired with a true to weight Rio select trout WF 4wt line and about 10' of leader I walked down stream to get away from access and the other fisher folks. I fished for about 6 hours moving through all the obstacles of small stream fishing, netting 8 or so fish with one in the 17" to 18" range. My setup was a double dry outfit, that revolved between a size 12 stimulator and ant, to a couple of small caddis and mayfly. Small stream fishing demands were met beautifully, seamlessly. Accuracy, finesse, moderate distance and up close the rod put the fly where I needed it with ease. My typical fishing distances are 15 to 35 feet out and up stream, I stretched this out to 40 to 45 on some longer open stretches without issues, with it turning over the stimi and ant just fine on the 10' or so of leader. An added benefit of this rod is it picks up and puts down line, false casting on small streams leads to more spooked trout, therefore I need to efficiently work water without carrying the line in the air for long periods of time. Once the fly was in the feeding lane and a fish hit, I found that the rod was able to set the hook well, I didn't miss many fish and none because I felt the rod was too soft to set the hook at the distance I was fishing. Once a fish was on the rod came to life once again, lots of the 8" to 10" browns liked the caddis that day, and they were a blast to land on the Pure. The bigger fish landed was in a tougher lie, up against the bank feeding under a low hanging bit of brush. Cast was made and the fish gave a subtle rise to take the CDC caddis. The fight was stellar as this fish knew the undercuts and root balls very well, making me put some force on him to keep him in the clean area and once to work him out of the cut bank. At the end of the day this is a great small to medium sized stream rod, I fished the double dry with a long leader with no issues. In my opinion it would do a dry dropper and a small simi seal leach or streamer with equal results. Having said that this rod is 8' long and a medium action Its not going to function as well as longer rods in the mending category.
The skinny, if you're into small to medium sized water this rod warrants a very serious look. Match it with a true to line weight WF line and find a hatch, I'm pretty sure you won't be disappointed.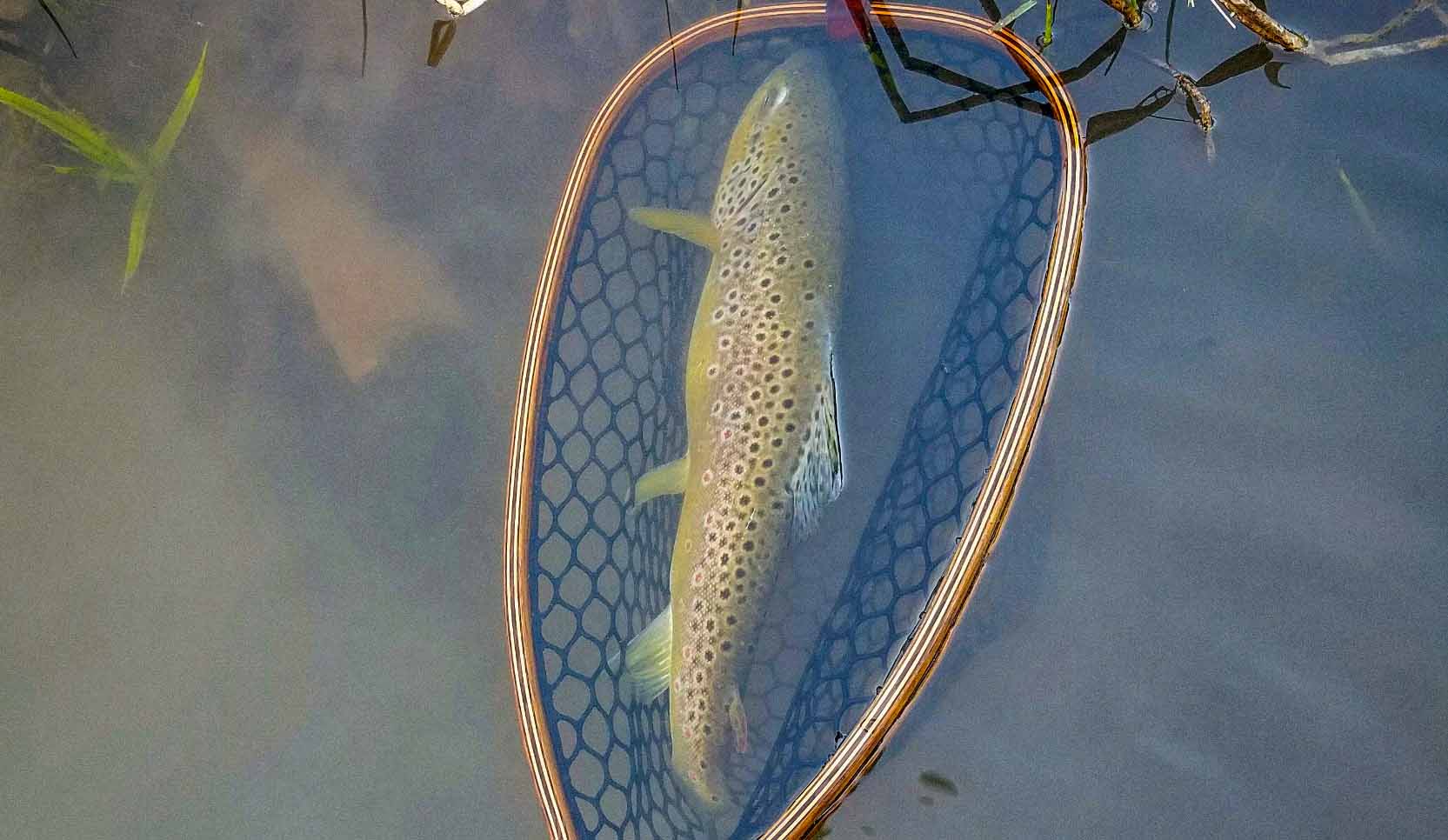 Pete's Notes
Winston 8 foot 4 weight Pure
Words of note; I prefer a more medium paced rod action, and consider myself an average casting fly fisherman. I am self taught and have picked up some strange casting habits from fishing these cramped Arizona streams over the years. With that said, I can haul/double haul, shoot line and have had the pleasure of fishing some of the great rods of the past and present.
When I first held the rod in hand and wiggled it, I thought that it would be a bit slower in feel, and I have to admit I was little worried that it was going to be a little faster than I had hoped for. All that changed once I got on the water.
I took the rod for it's first spin on Oak creek, which is a medium sized Arizona stream, with clean, clear water most of the year. The area in which I fished has plenty of big boulders, plunges, glass like pools and the occasional riffle. Above me is a canopy of low hanging tree limbs, and behind are the ever present saplings that love to grab a hold of your flies.
I used a Scientific Angers Amplitude Trout line and the newer Ross Reels Animas 3/4 weight reel, which balanced the rod decently, if not slightly butt heavy. (I prefer a lighter reel to give me a tip heavy rod when dry fly fishing)
I began casting this rod and immediately noticed how nice it felt, not to mention how beautiful it was. I had a size 16 dry at the end of a 10 foot leader, and I was able to produce 20+ foot casts on point with consistency. The rod had a nice progressive bend, and when more of it was called upon to deliver a longer cast, it did so with ease. I find the length of this rod is optimal for fishing these bigger AZ streams, and the 8-14″ wild browns and stocked bows put a nice bend in the rod.
Where I really began to notice this rod shine, was how intuitive the back-cast was. I could feel the rod telling me when it was the optimal time to start my forward cast, enabling me to get the most out of it. With this came a feel that put this rod up there with the greats. This rod has soul.
After working pools and riffles for a bit I found a nice piece of water where I could really let some line out and see what this rod was capable of in my amateur hands. I was able to single haul to about 35-40 feet with confidence, but after that I was needing a double haul. Holy-smokes-this thing turned into a whole other rod! Once I applied a second haul to the rod it picked up speed and shot line like a canon. On several occasions the line flew out of my hand with authority while the rod shot line to 45 feet+ where the fly landed again and again between 2 boulders at the head of the pool. I believe this secondary power may be due to the boron material that is mixed in the bottom of the blank, but I'll let more seasoned casters and the manufacturer speak to that.
As if I didn't find myself enjoying this rod enough already, I soon was in a position where I needed to pull off a back handed cast, something I usually only do when there are no other options. However, after delivering the first cast right on the money, and the next few casts after that, I found myself fishing off the back of the rod almost as comfortably as I did off the front.
With all that being said, I understand that this is a top tier rod that demands a top tier price. If you are a Winston fan, a fine rod collector, or are just looking for that perfect Arizona, spring creek, or freestone rod to finally go all in on, I don't think you can find a finer one at this time.